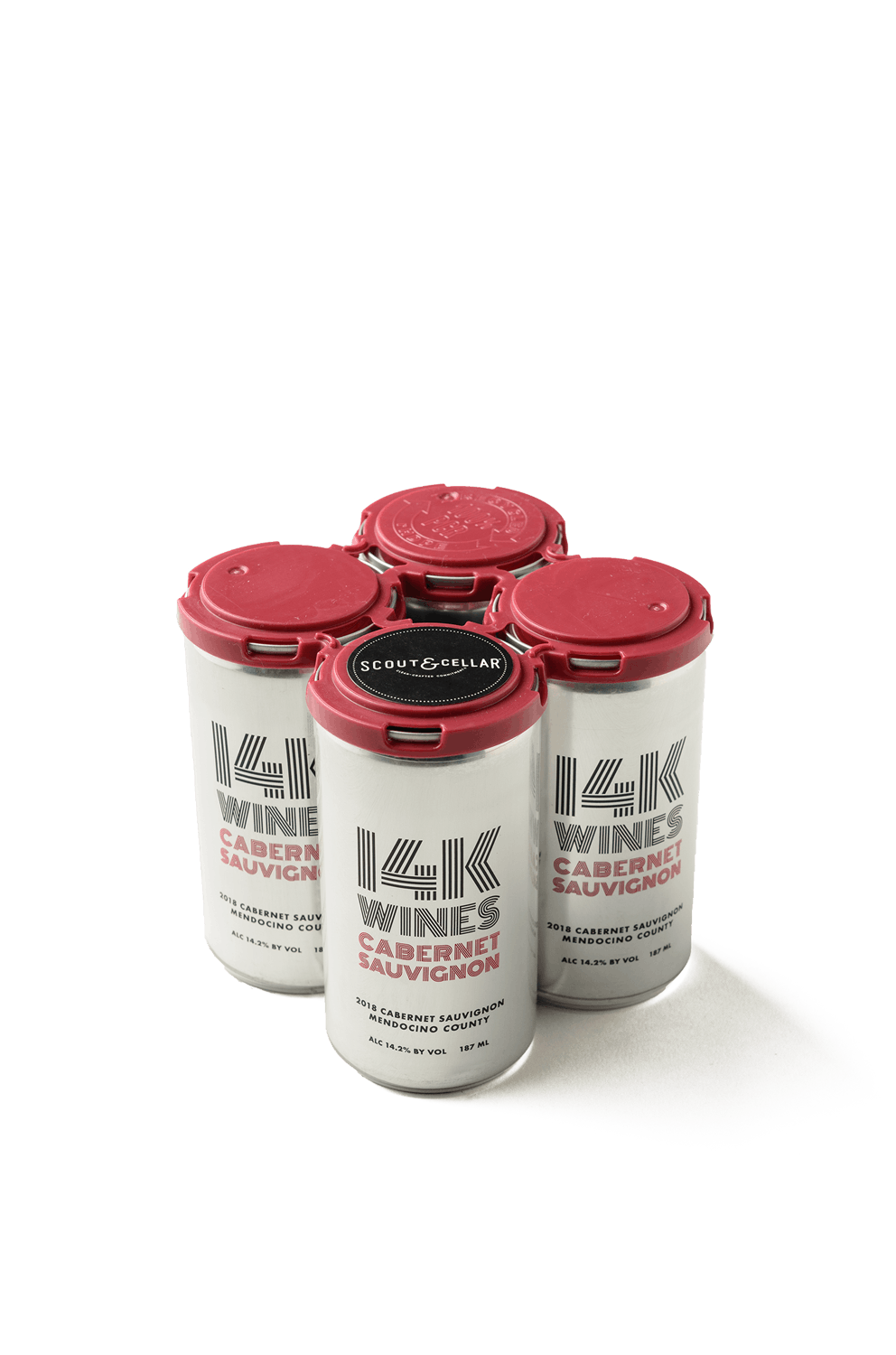 2018 14K Cabernet Sauvignon
Mendocino County, California
Notes of:



Pairs with:


Earthy, Bold
75% Cabernet Sauvignon, 25% Petite Sirah
Biodynamic, Vegan
Contains four (4) 187mL cans.
$25.00
Not available in the state you are shipping to.
2018 14K Cabernet Sauvignon

Mendocino County, California

Bold and juicy notes of blackberry jam and red plum are balanced by a hint of espresso bean and tobacco on an appealing, full-bodied frame with a long finish. 

Pop these cans in your cooler. Now you're ready for the neighborhood block party. 

Biodynamic, Vegan

Alc: 14.2% 

RS:  .01 g/L

We think you should drink them. But until you're ready to enjoy them, please keep refrigerated.

Not available in the state you are shipping to.

the journey

While we certainly think this canned red wine deserves a gold medal, the "K" is for kilometer. 14 kilometers is the distance between the two original Scout & Cellar locations in North Texas: the Celina Fieldhouse and the Prosper Warehouse.

14K is also the scientifically quantified distanced defined as "from here to there".

We're all about the journey, whether it's a geographical length or one of the many from-here-to-there moments life throws our way. These handy-dandy Clean-Crafted cans are ideal for celebrating all those little milestones, wherever they may be. Share a pack. Sip one solo. Take them places other wines just can't go.

The grapes for our 14K Cabernet were grown in a 60-acre biodynamic vineyard in the Arrowhead Mountain Region, where they were handpicked from 19-year-old vines planted in alluvial soil. The juice aged for 2 weeks in stainless steel vessels before aging in a combination of stainless steel and neutral French Oak. The wine was then canned, unfined, unfiltered and ready to be enjoyed!

Did You Know? A cross between Cabernet Franc and Sauvignon Blanc, Cabernet Sauvignon is the most planted grape in the world!