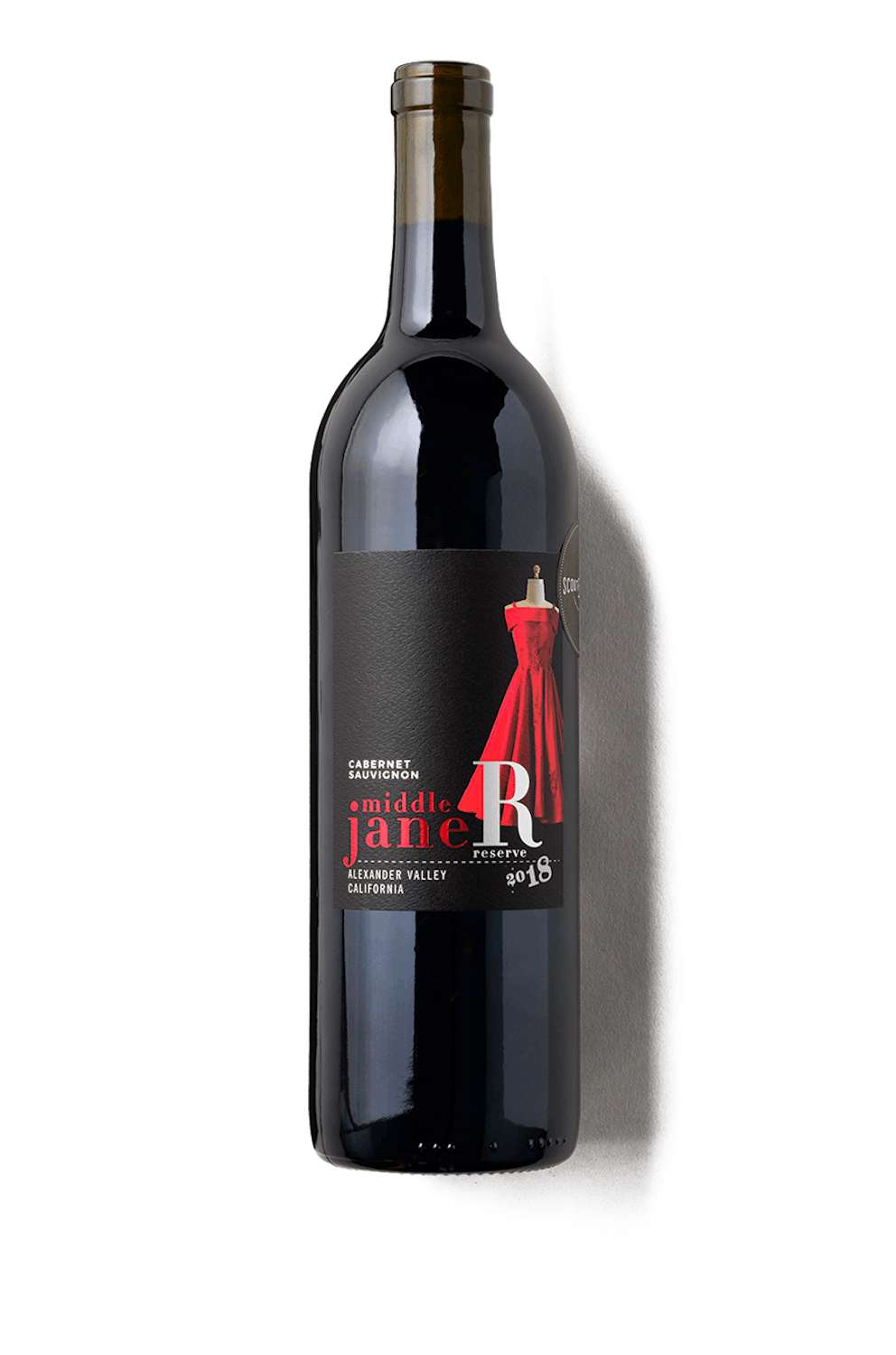 2018 MIDDLE JANE CABERNET SAUVIGNON RESERVE
Alexander Valley, California
Notes of:



Pairs with:


Earthy, Bold
100% Cabernet Sauvignon
Vegan
$38.00
Not available in the state you are shipping to.
2018 MIDDLE JANE CABERNET SAUVIGNON RESERVE

Alexander Valley, California

Driven by energy and tension, this wine shows aromas of black currant and blackberry and flavors of black cherry, espresso bean and mocha with a bright-but-serious frame and a grippy finish.

Pairs well with date night or your family holiday dinner. Share it with your loved ones and serve with rich meats and flavorful dishes.

Alcohol: 14.81%

Residual Sugar: 2.0 g/L

Not available in the state you are shipping to.

the journey

2018 MIDDLE JANE CABERNET SAUVIGNON RESERVE

Four generations ago, there was the first Jane in our family: Our great, great grandmother. Jane was strong. She swore only when needed. She worked hard, she did things right and she always wore lipstick. The unofficial matriarch of our family, Jane was the woman we all aspire to become.

Ever since, we've given each girl in our family the same middle name: Her name. Jane. It's a constant reminder to be brave. To do things right. To be more like Jane.

Today, we craft delicious wine under a similar name: Middle Jane. We do this because everything our wine represents just so happens to be everything she represented: Honesty. Passion. And a commitment to doing things with integrity.

The vineyard that grew the grapes for this Reserve Cabernet Sauvignon sits near benchland that feeds into Sausal Creek, a Russian River tributary, where it is owned and farmed by the Mauritson family, who has been farming wine grapes in Sonoma County since 1868, when the federal government deeded property to the family under the Homestead Act.

The family's farming philosophy is a simple one: Take care of the land, and the land will take care of you. They are continually looking for ways to improve the earth around them, with the goal of leaving it in better health than when they began farming it over 150 years ago.

For this single-vineyard Cabernet Sauvignon, grapes were hand-picked from 16-year-old vines grown at 400 ft elevation on clay loam soil, where a coastal breeze blows through the vineyard and the hot days' temperatures drop dramatically after dusk. The juice fermented in stainless steel for just over a week, before aging for eight months in stainless steel vessels. The wine was then bottled, unfined and unfiltered.

DID YOU KNOW?

A cross between Cabernet Franc and Sauvignon Blanc, Cabernet Sauvignon is the most planted grape in the world!