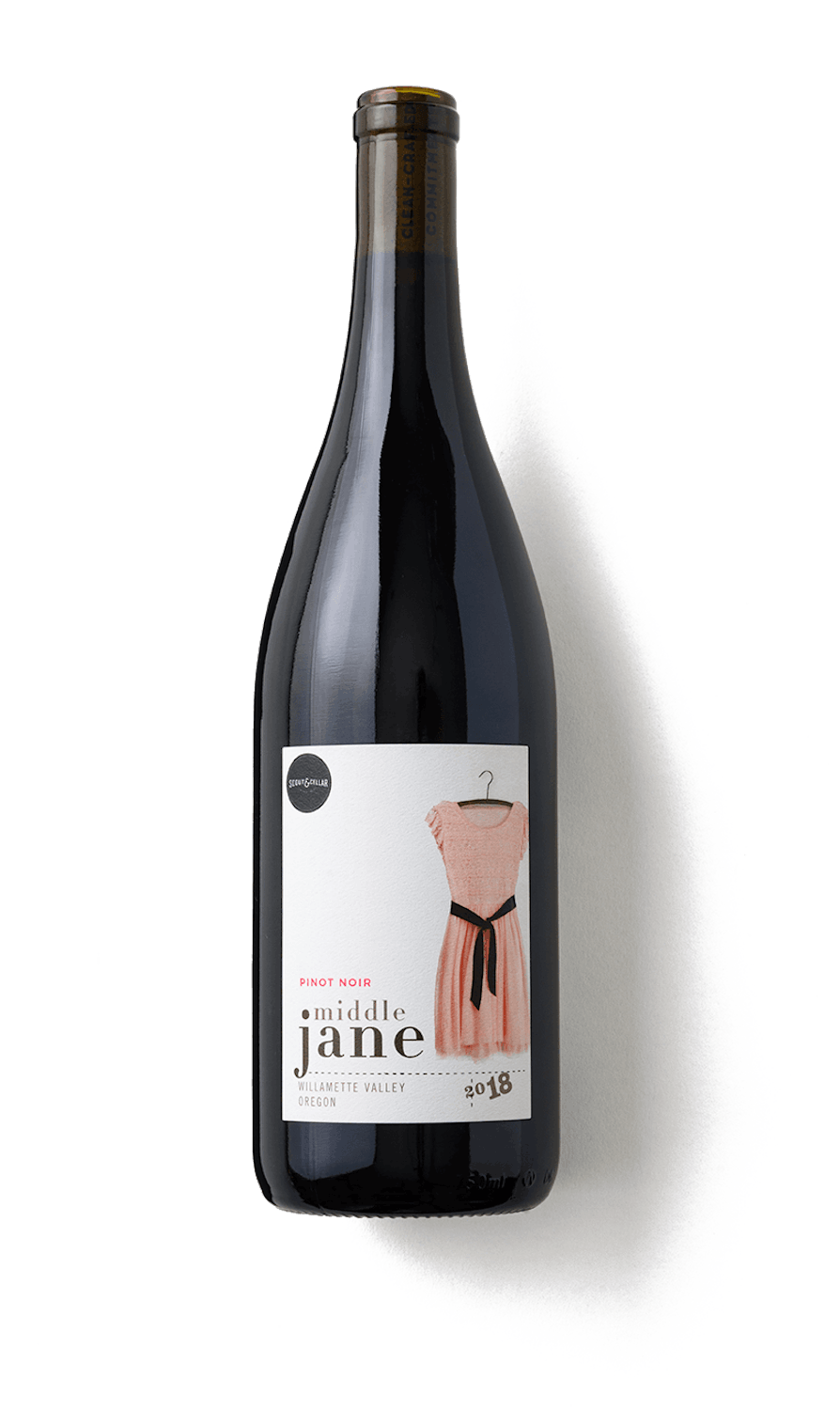 2018 MIDDLE JANE PINOT NOIR
Willamette Valley, Oregon
Notes of:



Pairs with:


Earthy, Light
100% Pinot Noir
Vegan
$42.00
Not available in the state you are shipping to.
2018 MIDDLE JANE PINOT NOIR

Willamette Valley, Oregon

Elegant and complex with red plum, black cherry and fresh raspberry balanced by garrigue, Asian spice, and a hint of coffee bean with soft tannins and a lingering finish.

Pair with grilled salmon, flatbread with caramelized onions and Gruyere cheese, and happiness.

Alcohol: 14%

Residual Sugar: 0.7 g/L

Not available in the state you are shipping to.

the journey

2018 MIDDLE JANE PINOT NOIR

Four generations ago, there was the first Jane in our family: Our great, great grandmother. Jane was strong. She swore only when needed. She worked hard, she did things right and she always wore lipstick. The unofficial matriarch of our family. Jane was the woman we all aspire to become. Ever since, we've given each girl in our family the same middle name: Her name. Jane. It's a constant reminder to be brave. To do things right. To be more like Jane. Today, we craft delicious wine under a similar name: Middle Jane. We do this because everything our wine represents just so happens to be everything she represented: Honesty. Passion. And a commitment to doing things with integrity. That's how Jane would have done it.

Maysara is a family-owned, Demeter-certified Biodynamic vineyard that captures unique characteristics from among nine of the oldest soil types Oregon. Instead of using chemicals, the Momtazi family creates in-house biodynamic preparations, including vineyard compost teas made from medicinal and dynamic flowers and herbs, realizing the "nature-to-nature" philosophy.

For this Pinot Noir, grapes were handpicked from 20-year-old vines then sorted, destemmed and placed in steel tanks to ferment for 1-2 weeks on native yeasts. The wine then aged in neutral French Oak barrels for 11 months before bottling, unfined and unfiltered.

DID YOU KNOW?

Pinot Noir ranks as one of the oldest grape varietals in the world, with a history dating back to the first century!