Circle Exclusive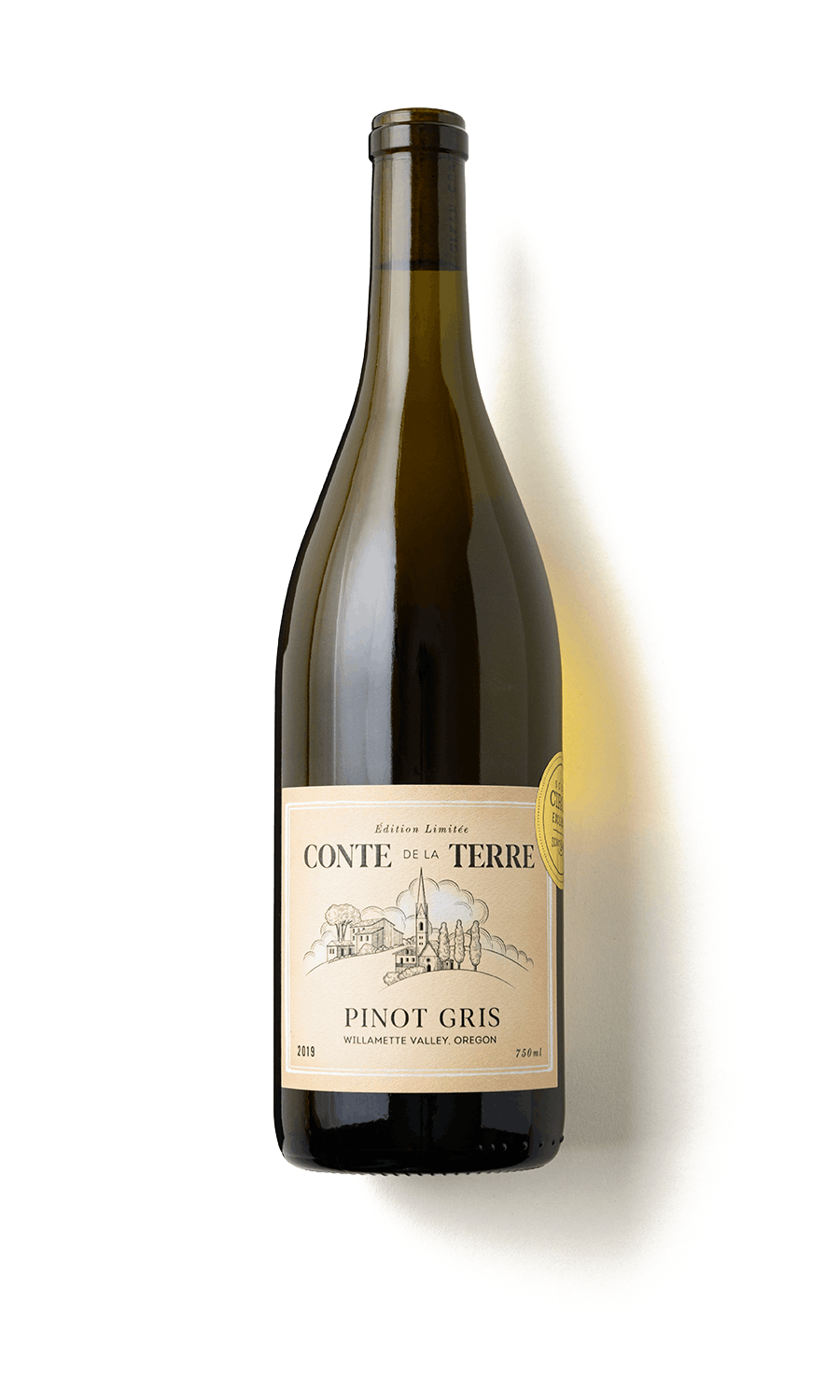 2019 CONTE DE LA TERRE PINOT GRIS
Willamette Valley, Oregon
Notes of:



Pairs with:

Earthy, Crisp
100% Pinot Gris
Vegan
$26.00
Not available in the state you are shipping to.
2019 CONTE DE LA TERRE PINOT GRIS

Willamette Valley, Oregon

Crisp and clean with yellow apple, white peach, apple blossom, and fresh herbs on a bright, light-bodied frame with an appealing finish. This mouth-watering wine is a perfect choice as your go-to white wine!

Pair it with Pasta Primavera or anything from the vegetable garden.

Alcohol: 12.5%

Residual Sugar: 5.2 g/L

Not available in the state you are shipping to.

the journey

2019 CONTE DE LA TERRE PINOT GRIS

French for "Tale of the Land," Conte de la Terre is a love letter to the masters of old-world winemaking, to the purity of their craft and to rich, verdant terroirs that have defined winemaking excellence for centuries. We invite you to enjoy this bottle of Conte de la Terre Pinot Gris and to pay homage to the passion and perseverance of winemaking, one sip at a time.

This small-lot Pinot Gris was made from grapes handpicked from 20-year-old vines planted in Maysara's certified Biodynamic vineyard in the foothills of the McMinnville AVA, capturing the unique characteristics of some of the oldest soils in Oregon. Instead of using chemicals, the Momtazi family creates and applies in the vineyard compost teas made from medicinal and dynamic flowers and herbs, realizing the "nature-to-nature" philosophy. Every bottle expresses this commitment to healthy soil and healthy vines by showcasing purity of fruit and earth.

After harvest, the grapes were sorted, destemmed, and pressed. The juice fermented for 11 days on native yeasts in stainless steel. The wine then aged in stainless steel for 11 months until bottling, unfined and lightly filtered.

DID YOU KNOW?

The first commercial planting of Pinot Gris in the United States took place in 1965 in Oregon by wine pioneer David Lett. He started out producing just 25 cases per year of Pinot Gris that he would usually trade to fishermen for salmon. Now Oregon's flagship white wine, there are now more than 13,000 tons of Pinot Gris harvested each year (yielding almost 2 million bottles!).