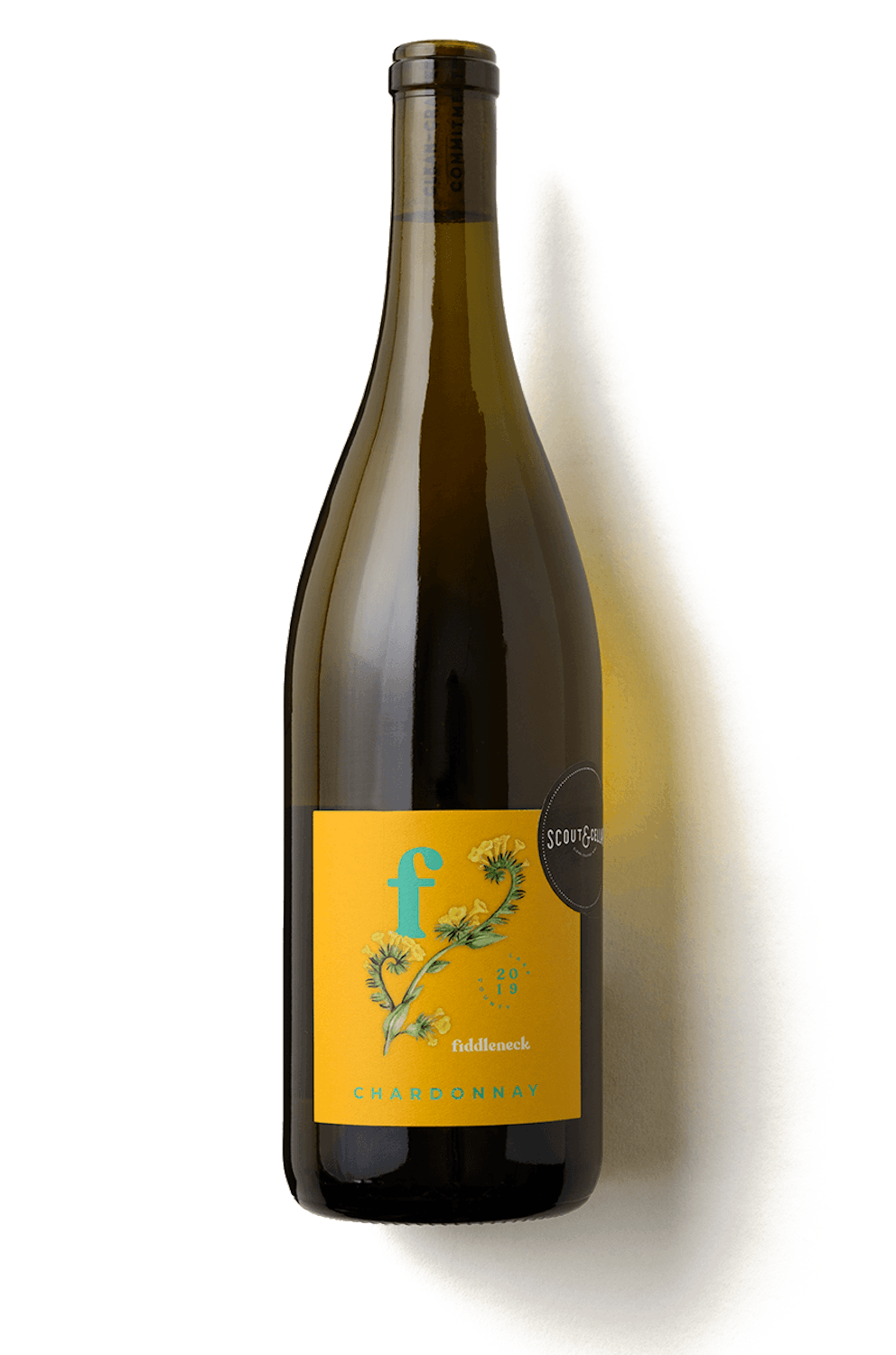 2019 FIDDLENECK CHARDONNAY
Lake County, California
Notes of:



Pairs with:


Fruity, Crisp
100% Chardonnay
Vegan
$22.00
Not available in the state you are shipping to.
2019 FIDDLENECK CHARDONNAY

Lake County, California

Bright and aromatic with yellow apple, candied lemon peel, ripe pineapple and a hint of fresh-baked bread on a lively, well-balanced frame with a zesty-yet-lingering finish.

Pairs perfectly with scallops, roast chicken and happiness.

Alcohol: 13.5%

Residual Sugar: 0.05 g/L

Not available in the state you are shipping to.

the journey

2019 FIDDLENECK CHARDONNAY

Back when the early days of American winemaking hit a fever pitch, a small group of vintners stumbled upon a region of the Mendocino Valley blanketed with what they referred to as, "The Gold Cloak." This led to a fortunate discovery: The Gold Cloak comprised millions of yellow flowers called Fiddlenecks. Natural cover crops that protected and nurtured the land beneath them. The vintners rejoiced and planted the foundation for their vineyards upon this land and upon the first Harvest Moon, they reaped their reward. Such was the beginning of Fiddleneck, a collection of wines that captures the magic of Mendocino.

This Chardonnay was made by resident winemaker John Harley. John has been making wine for over 16 years and has been doing so in the most natural way possible since day one. Fatherhood has deeply shaped the way he thinks about what we put into the earth, into our bodies, and what we give to those we love. He holds the conviction that it is our duty to be good stewards of the land, and that it's important to be honest and authentic -- not just for the here and now, but for future generations.

For this wine, grapes were handpicked from vines planted 20 years ago in Mendocino's Lake County. After pressing, the juice fermented in stainless steel for 20 days. The wine then aged in 80% stainless steel and 20% neutral French Oak barrels for 3 months before bottling, unfined and lightly filtered.

DID YOU KNOW?

Chardonnay is the most popular grape varietal in the United States!