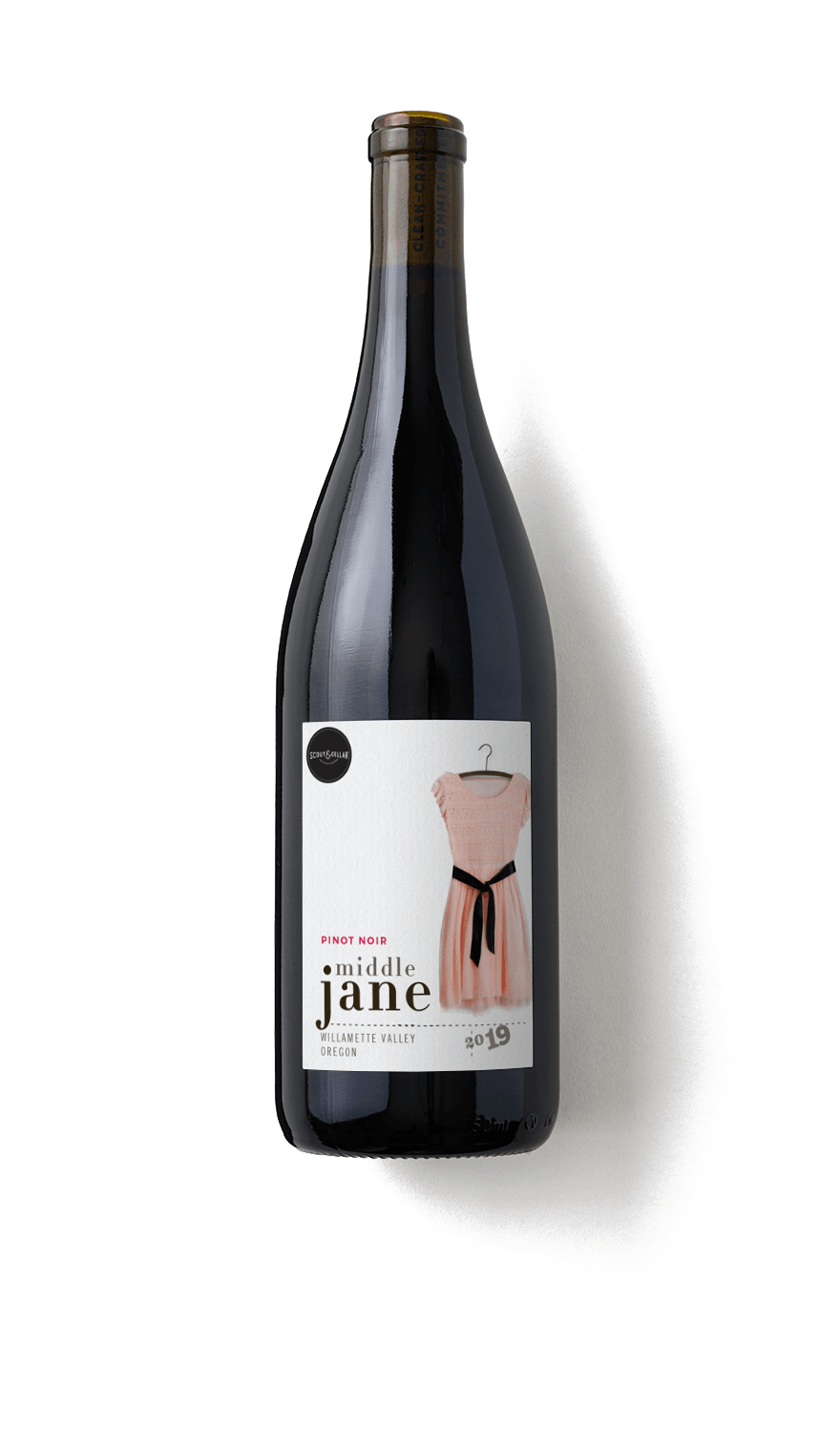 2019 MIDDLE JANE PINOT NOIR
Willamette Valley, Oregon
Notes of:



Pairs with:



Earthy, Light
100% Pinot Noir
Vegan
$42.00
Not available in the state you are shipping to.
2019 MIDDLE JANE PINOT NOIR

Willamette Valley, Oregon

From the moment your nose hits the glass on this new vintage of Middle Jane Pinot Noir, it takes you to classic Willamette Valley Pinot. Stunning aromas of violets, fresh berries and forest pine lead you to a very delicate, silky structure. The palate balances tart cranberry and red raspberry with hints of baking spices and white pepper. If you have loved Middle Jane in past vintages, you will be a fan of the soft, bright and satin finish of this new release.

Pairs well with cedar-grilled salmon, roasted chicken with herbs, and nights on the patio.

Alcohol: 13.28%

Residual Sugar: 0 g/L

Not available in the state you are shipping to.

the journey

Four generations ago, there was the first Jane in our family: Our great, great grandmother. Jane was strong. She swore only when needed. She worked hard, she did things right and she always wore lipstick. The unofficial matriarch of our family. Jane was the woman we all aspire to become. Ever since, we've given each girl in our family the same middle name: Her name. Jane. It's a constant reminder to be brave. To do things right. To be more like Jane.

Today, we craft delicious wine under a similar name: Middle Jane. We do this because everything our wine represents just so happens to be everything she represented: Honesty. Passion. And a commitment to doing things with integrity. That's how Jane would have done it.

For this Pinot Noir, grapes were handpicked from vines planted 17-23 years ago in Maysara's certified Biodynamic vineyard in the foothills of the McMinnville AVA, capturing the unique characteristics of some of the oldest soils in Oregon. Instead of using chemicals, the Momtazi family creates and applies in the vineyard compost teas made from medicinal and dynamic flowers and herbs, realizing the "nature-to-nature" philosophy. Every bottle expresses this commitment to healthy soil and healthy vines by showcasing purity of fruit and earth.

After harvest, grapes were destemmed and placed in stainless steel tanks to ferment on native yeast for 10-15 days. The wine then aged in neutral barrels for 12 months before bottling, unfined and unfiltered.

DID YOU KNOW?

Pinot Noir is a difficult grape to grow. More so than other grapes, it thrives on well-draining soil and with low yields. It needs dry-but-not-too-dry conditions, and most importantly, it loves cool climates!