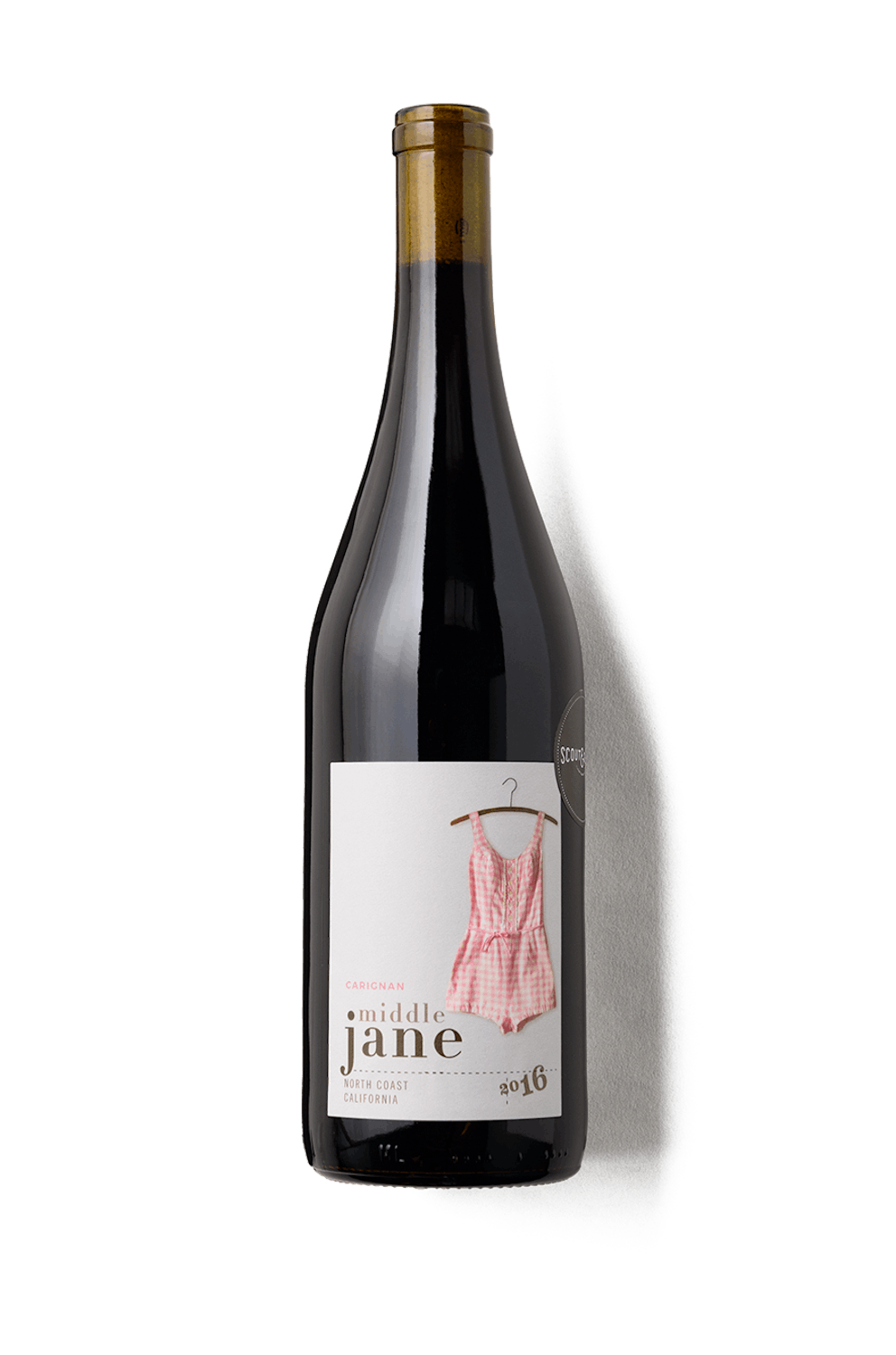 2016 MIDDLE JANE CARIGNAN
Mendocino County, California
Notes of:



Pairs with:


Fruity, Light
100% Carignan
Vegan
$42.00
Not available in the state you are shipping to.
2016 MIDDLE JANE CARIGNAN

Mendocino County, California

Electric and zesty notes of tart cherry, wild strawberry, pomegranate, blood orange and a hint of spice with a crunchy texture and a lingering finish.

Pairs perfectly with Indian food or barbecued beef brisket and a roasted vegetable medley. Also pairs with smoked Gouda cheese. For a Vegan option, try Chana masala (chickpea curry with a spicy tomato-based sauce).

Alcohol: 14.2%

Residual Sugar: 0 g/L

Not available in the state you are shipping to.

the journey

2016 MIDDLE JANE CARIGNAN

Four generations ago, there was the first Jane in our family: Our great, great grandmother. Jane was strong. She swore only when needed. She worked hard, she did things right and she always wore lipstick. The unofficial matriarch of our family. Jane was the woman we all aspire to become.

Ever since, we've given each girl in our family the same middle name: Her name. Jane. It's a constant reminder to be brave. To do things right. To be more like Jane.

Today, we craft delicious wine under a similar name: Middle Jane. We do this because everything our wine represents just so happens to be everything she represented: Honesty. Passion. And a commitment to doing things with integrity. That's how Jane would have done it.

This Carignan hails from a family-owned and farmed vineyard in Mendocino County, California that was originally planted in 1912 using draft horses. For this wine, the grapes were hand-harvested from the 106-year-old vines, destemmed and underwent native yeast fermentation in stainless steel tanks for 18 days. Then the wine aged for 31 months in neutral French oak barrels before being bottled, unfined and unfiltered.

DID YOU KNOW?

A draft horse is a large horse bred to be a working animal doing hard tasks like plowing, transporting grapes to the winery, and other farm labor and take the place of modern machines. They are recognizable by their tall stature and muscular build.