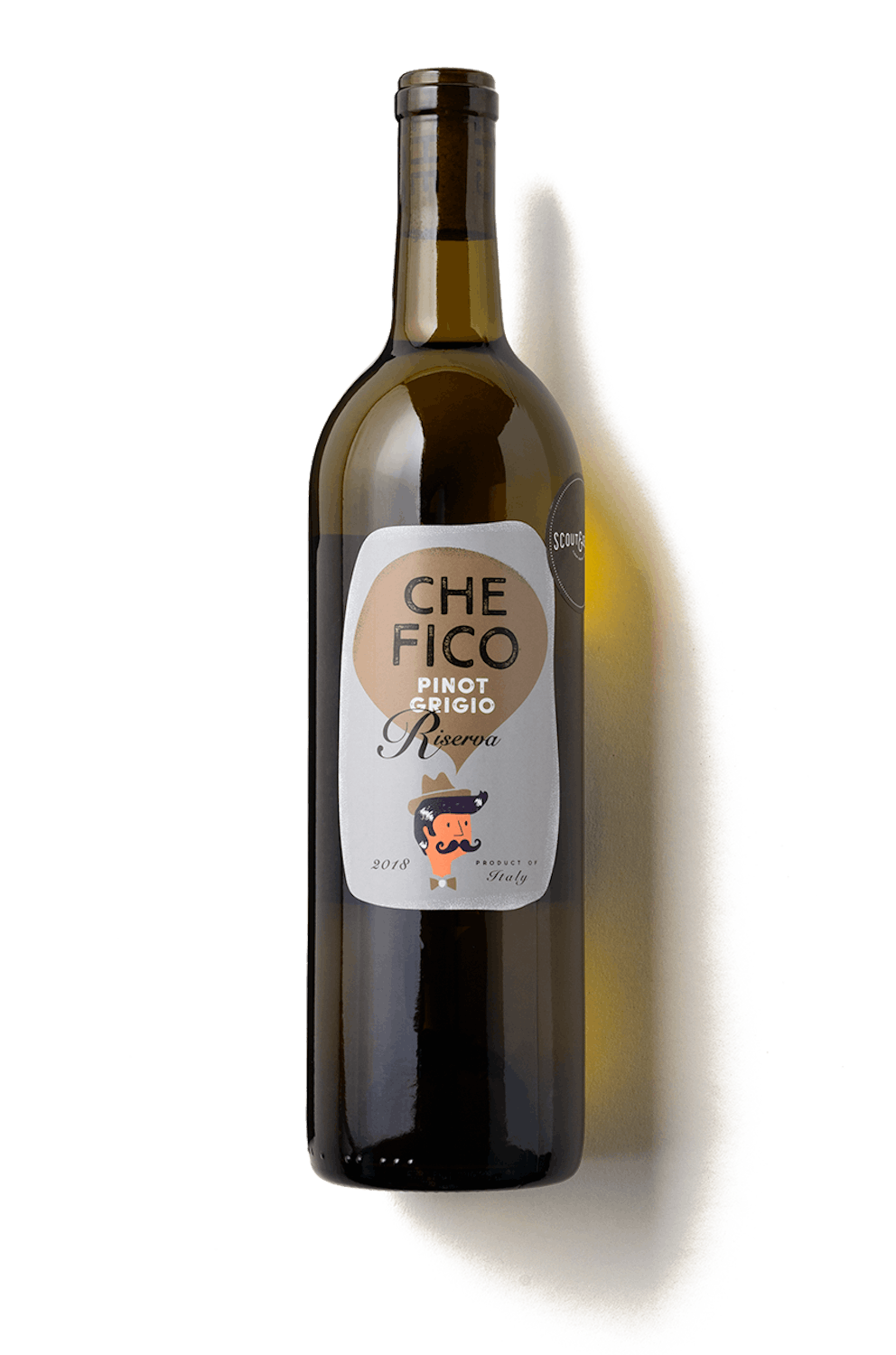 2018 CHE FICO PINOT GRIGIO RISERVA
Veneto, Italy
Notes of:



Pairs with:


Earthy, Crisp
100% Pinot Grigio
Vegan
$29.00
Not available in the state you are shipping to.
2018 CHE FICO PINOT GRIGIO RISERVA

Veneto, Italy

Layered and bright notes of peach, mango, almond and limestone with a textured, round mouthfeel and a persistent finish.

Best enjoyed while dining al fresco. Pair with seafood risotto and a simple green salad. Vegan? Swap the shrimp for in-season vegetables.

Alcohol: 12.06%

Residual Sugar: 1.81 g/L

Not available in the state you are shipping to.

the journey

2018 CHE FICO PINOT GRIGIO RISERVA

Che Fico. You say it "Kay-Fee-Koh," and it's Italian for "How Cool!"  Practice it a few times. Then sit back, close your eyes and picture an Italian winery on a hillside, a table in a garden and a seasoned, smiling father seated at that table with his two sons, resolute in their joy to follow in their father's footsteps.

This is the Marion family who owns and runs the winery that produced this beautiful Pinot Grigio. The father, Bruno, has never left the vineyard. Even at 75-years-old, he is up at sunrise tending to the vines until dark. His sons, Paolo and Massimo, manage the winery and winemaking and have been working alongside their father for over 40 years learning the trade. Twenty years ago, Bruno and Paolo said, "enough is enough" and converted to organic farming. They have cultivated a deep belief that genuine wine starts at the root of the vine.

The vines were planted 15 years ago and the earth under the vines is gravel and rich soil. The family tries to harvest the grapes very quickly; so quickly that the grapes are in the cellar fermenting within 10 minutes of being picked!

The juice for this Pinot Grigio fermented for 2 weeks in temperature-controlled stainless steel. The wine then aged for 7 months in stainless steel before bottling, unfined and lightly filtered.

DID YOU KNOW?

Pinot Grigio and Pinot Gris are the same grape, though the wines differ in style. Alsatian Pinot Gris is typically fuller-bodied and more viscous, while Italian Pinot Grigio (like this one!) tends to be light-bodied and crisp.