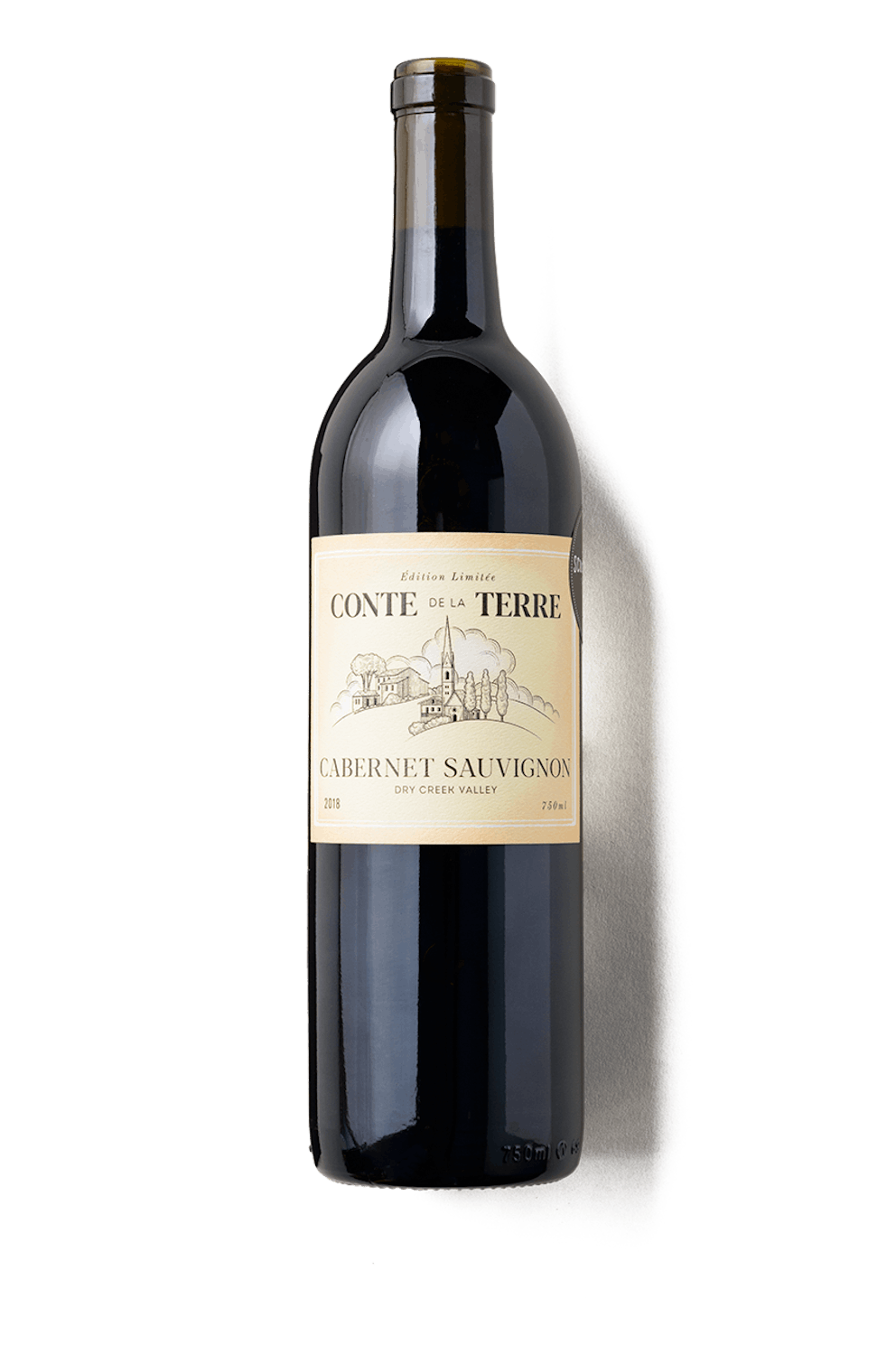 2018 CONTE DE LA TERRE CABERNET SAUVIGNON
Sonoma County, California
Notes of:



Pairs with:


Earthy, Bold
100% Cabernet Sauvignon
Vegan
$34.00
Not available in the state you are shipping to.
2018 CONTE DE LA TERRE CABERNET SAUVIGNON

Sonoma County, California

Bold, concentrated flavors of blackberry, black cherries and wild raspberries on a layered, medium-bodied frame with a lingering finish.

Perfect on its own or with bold-flavored foods. Try kabobs fresh off the grill, layered with meat and peppers, or grilled artichoke hearts dipped in vegan aioli.

Alcohol: 14.6%
Residual Sugar: 2.2 g/L

Not available in the state you are shipping to.

the journey

2018 CONTE DE LA TERRE CABERNET SAUVIGNON

Conte de la Terre is a love letter to the masters of old-world winemaking. This collection of delicious wines pays homage to the craft of winemaking.

The family that owns and farms this 31-year-old vineyard has been farming grapes in Sonoma County since 1868. When the family first planted vineyards in Dry Creek Valley, they shipped every bit of it wine produced from them back to their home country of Sweden! Over the last 150 years, six generations of grape growers thoughtfully planted more than 4,000 acres of vineyards in and around Sonoma County.

Grapes for this Cabernet Sauvignon were hand-picked from 31-year-old vines in Sonoma County, then placed in stainless steel tanks for 9 days. The wine then underwent malolactic fermentation – the natural process where zippy malic acids convert to round, creamy lactic acid – in neutral French Oak barrels for 3 months. Afterward, the wine returned to stainless steel vessels, where it aged for another 8 months before bottling, unfined and unfiltered.

DID YOU KNOW?

Cabernet Sauvignon is the most planted grape in the world.