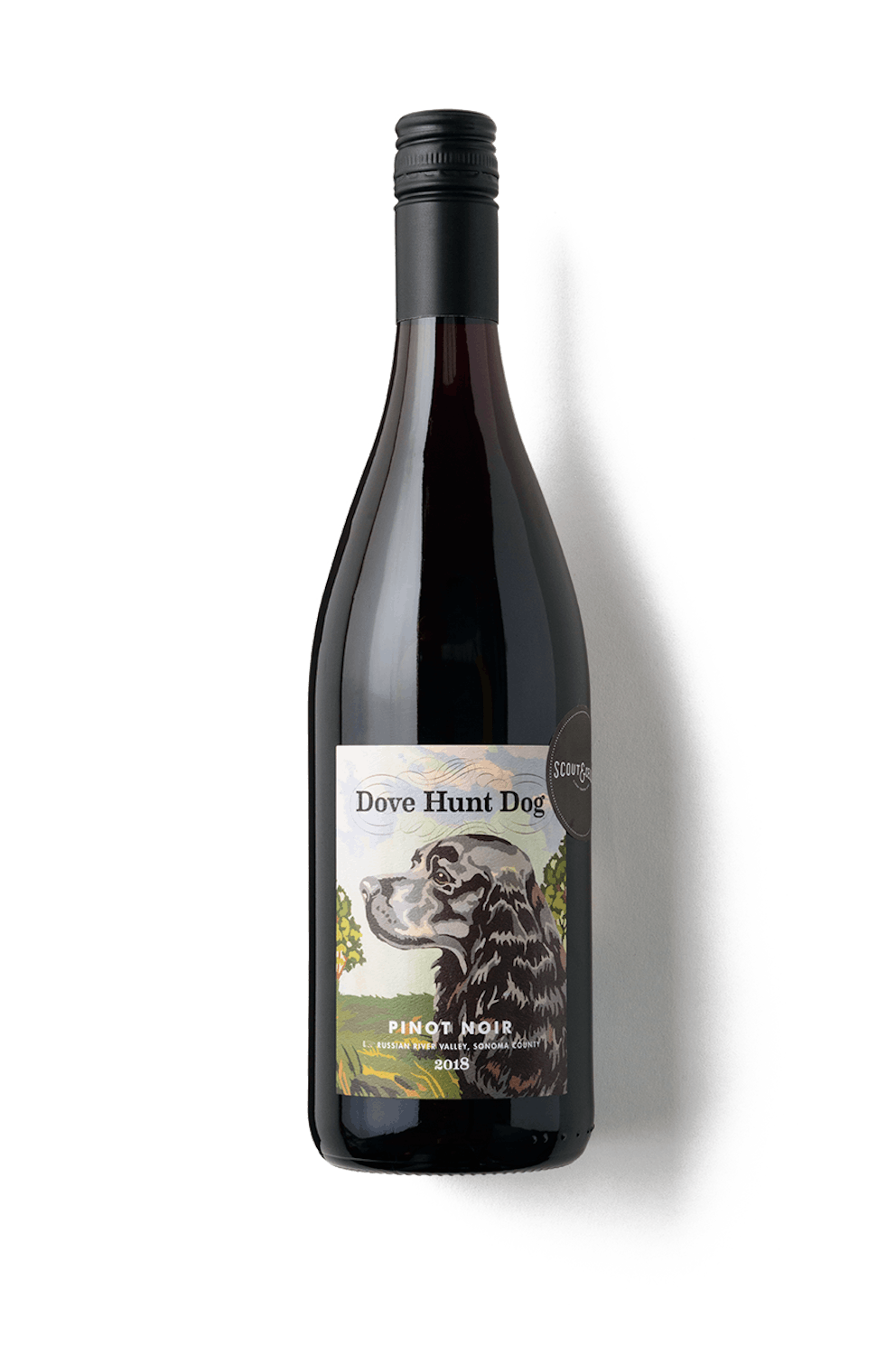 2018 DOVE HUNT DOG PINOT NOIR
Sonoma County, California
Notes of:



Pairs with:


Fruity, Bold
100% Pinot Noir
Vegan
$20.00
Not available in the state you are shipping to.
2018 DOVE HUNT DOG PINOT NOIR

Sonoma County, California

Juicy and approachable with fruit-forward notes of wild cherry and red raspberry balanced by cinnamon graham cracker on a medium-bodied frame with a fruity, gulpable finish that demands a second sip.

Pairs with grilled chicken with a hint of spice or a sweeter sauce, anything barbecue and impromptu weeknight hangouts.

Alcohol: 14.3%

Residual Sugar:  1.2 g/L

Not available in the state you are shipping to.

the journey

2018 DOVE HUNT DOG PINOT NOIR

We believe that a bottle of wine is more than just a bottle of wine. It's a companion. At the core of companionship is a dedication to keeping things honest and simple. Dove Hunt Dog, more than anything, is a celebration of what makes life complete: the people we love most, the dogs by our side and naturally Clean-Crafted™ wine in our glasses.

The estate that created this Pinot Noir has been family owned and operated since 1896 – that's almost 125 years! The family takes a minimal intervention approach to both farming and winemaking, preferring to create authentic wines that truly reflect the region's terroir.

These grapes were picked one early morning in September, from vines planted over 15 years ago along the Russian River Valley. The grapes were immediately taken to the winery to be crushed and destemmed. The juice then fermented on native yeasts in stainless steel tanks for 18 days. For the last 3 days of fermentation, toasted oak chips were added to bring out flavors and textures in the wine. The wine then aged on the lees for 8 months before bottling, unfined and unfiltered.

DID YOU KNOW?

Pinot Noir is believed to be one of the oldest grape varietals in the world, dating back to Roman times. It's got over 1,000 years on Cabernet Sauvignon!