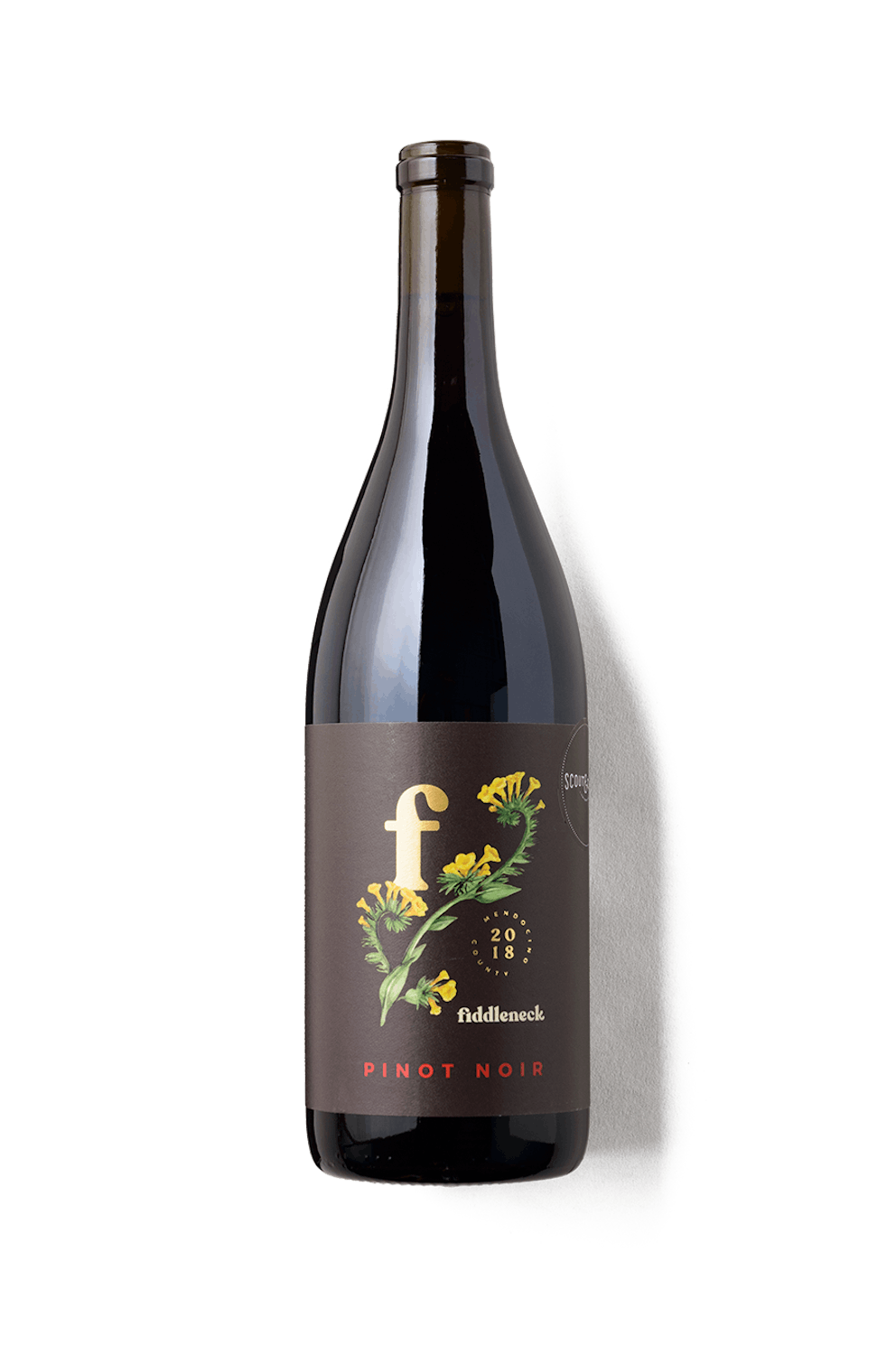 2018 Fiddleneck Pinot Noir
Mendocino County, California
Notes of:



Pairs with:


Earthy, Light
100% Pinot Noir
Organic, Vegan
$29.00
Not available in the state you are shipping to.
2018 Fiddleneck Pinot Noir

Mendocino County, California

Bright and intriguing notes of cranberry, red cherry and wild strawberry on a textured palate with round tannins and a juicy finish.

Pairs perfectly with roasted chicken over pasta or Gruyere cheese. For a Vegan option, pair with Moroccan-style stuffed acorn squash.

100% Pinot Noir

Alcohol: 14.5%

Residual Sugar: 0 g/L

Not available in the state you are shipping to.

the journey

Back when the early days of American winemaking hit a fever pitch, a small group of vintners stumbled upon a region of the Mendocino Valley blanketed with what they referred to as, "The Gold Cloak." This led to a fortunate discovery: The Gold Cloak comprised millions of yellow flowers called Fiddlenecks. Natural cover crops that protected and nurtured the land beneath them. The vintners rejoiced and planted the foundation for their vineyards upon this land and upon the first Harvest Moon, they reaped their reward.

Such was the beginning of Fiddleneck, a collection of wines that capture the magic of Mendocino.

This family-owned and farmed vineyard in Mendocino County is CCOF Certified Organic (California Certified Organic Farmers). The vineyard was originally planted in 1954 along the west fork of the Russian River. In this family-owned business, kids work alongside their parents and grandparents in the vineyard and in the cellar.

For this wine, the grapes were hand-picked from vines up to 40-years-old before being destemmed. The grapes were cold soaked for three days, which helps extract color and flavors from the grape skins. Then they warmed to 75 degrees before fermenting in stainless steel tanks. Aging took place in oak barrels before being bottled, unfined and unfiltered.

Did You Know? Pinot Noir is the most planted red varietal in Mendocino County, with over 2,600 acres planted.