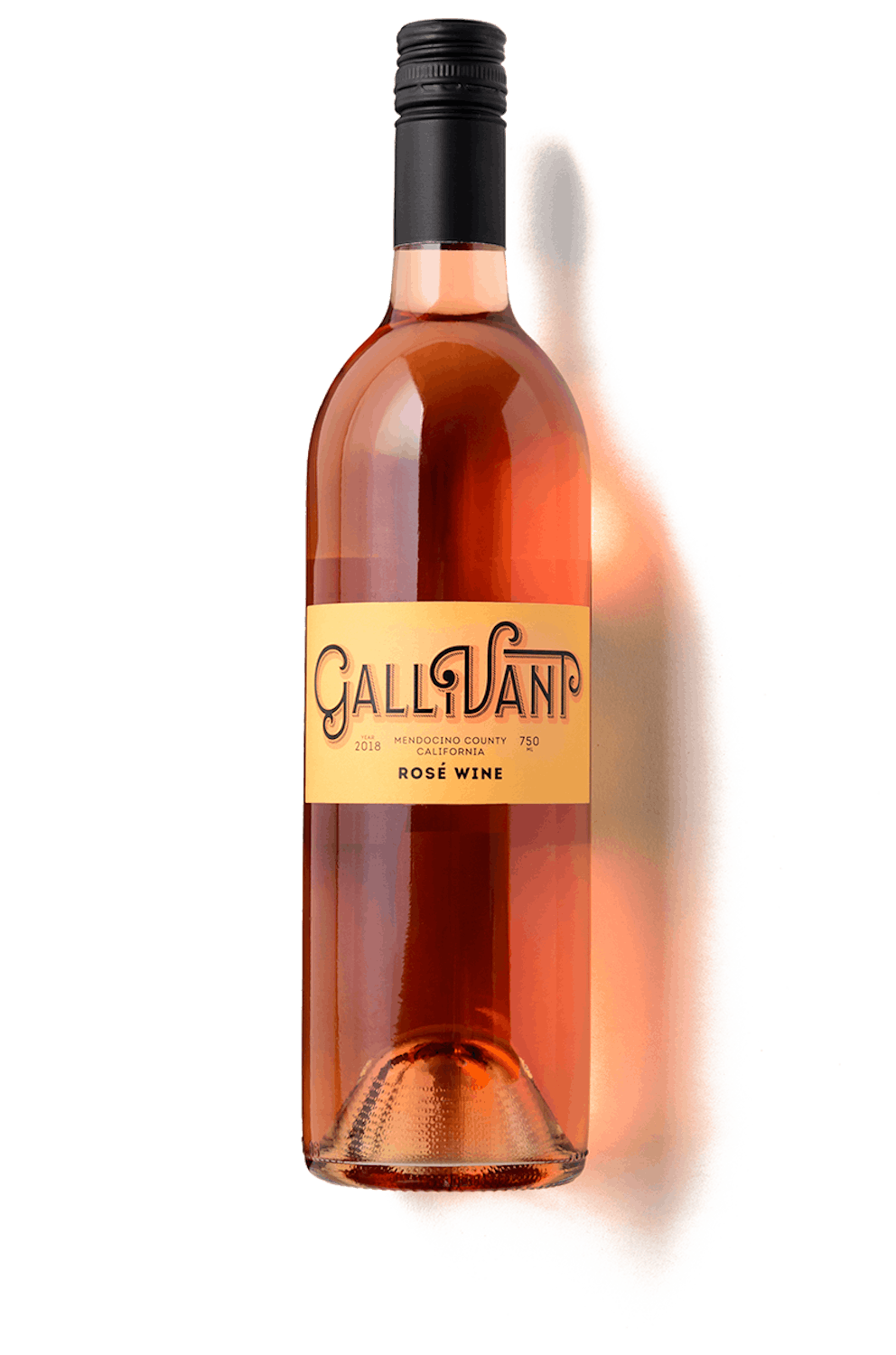 2018 Gallivant Rosé
Mendocino County, California
Notes of:



Pairs with:


Fruity, Crisp
70% Syrah, 15% Grenache, 15% Zinfandel
Organic, Vegan
$24.00
Not available in the state you are shipping to.
2018 Gallivant Rosé

Mendocino County, California

Fresh and lively with red raspberry, pomegranate, limestone and with a zesty texture and refreshing finish.

Pairs perfectly with salmon topped with a sunflower-dill pesto sauce. Also pairs with Gouda cheese, brie, and friends. For a Vegan option, pair with an apple, fig and walnut salad topped with a garlic pesto dressing.

Alcohol: 13.4%

Residual Sugar: 0.5 g/L

Not available in the state you are shipping to.

the journey

In Mendocino County, we do life on our own terms. We chase the sun. We pursue adventure, no matter where it takes us. We live in the authentic and we obsess over the simple things. Our wines capture this philosophy reflecting the passion and dedication we instill in every bottle.

Because life is a path: you can either walk it aimlessly, or you can gallivant joyfully. Take your pick. We certainly have.

The vines in this family-owned vineyard are more than 30 years old and a portion of the Syrah, Grenache and Zinfandel vines are exclusively designated for Rosé production. This more deliberate approach starts when the grapes are picked at lower brix (aka sugar levels in the grapes, which ultimately determine the alcohol content in the wine). Lower brix ensures a final wine with higher, brighter acidity and lower alcohol.

For this wine, the grapes were hand-picked from old vines before being pressed and fermented, 75% were fermented in stainless steel tanks while 25% were fermented in neutral French oak barrels. The wine aged for two months before bottling, unfined and lightly filtered.

Did You Know? Rosé is made from red grape varietals but fermented like white wine and is best served chilled like other white wines.