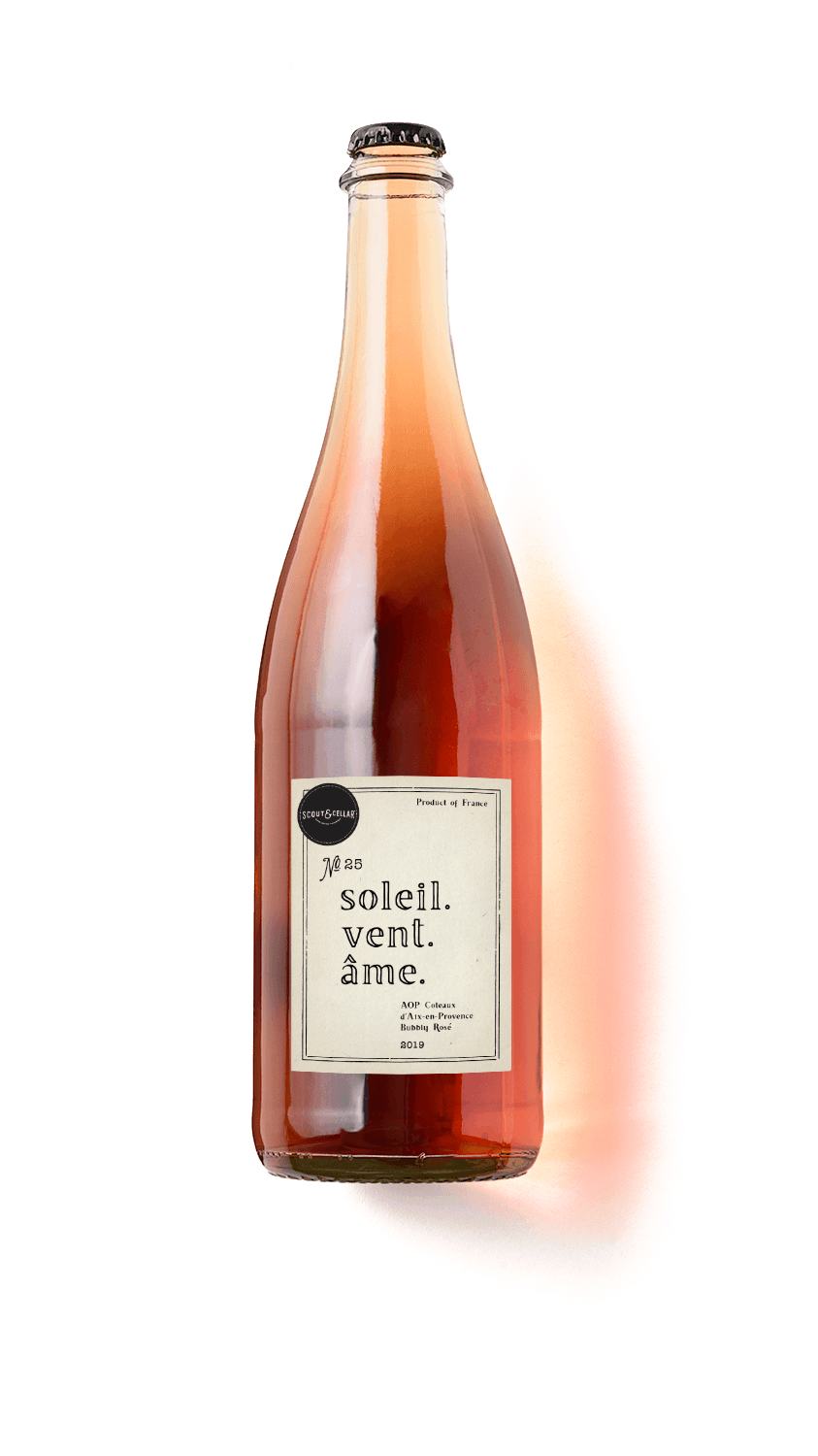 2019 SOLEIL. VENT. ÂME. BUBBLY ROSÉ
AOP Coteaux d'Aix-en-Provence, France
Notes of:



Pairs with:


Fruity, Crisp
50% Grenache, 50% Cinsault
Vegan
$27.00
Not available in the state you are shipping to.
2019 SOLEIL. VENT. ÂME. BUBBLY ROSÉ

AOP Coteaux d'Aix-en-Provence, France

Bright and playful with layered notes of strawberry, ripe peach, and orange blossom and lively bubbles that dance across the palate, demanding another sip.

Pairs perfectly with seared tuna, Spanish tapas, and celebrations big and small.

Alcohol: 13.5%

Residual Sugar: 0 g/L

Not available in the state you are shipping to.

the journey

2019 SOLEIL. VENT. ÂME. BUBBLY ROSÉ

"Soleil. Vent. Âme." translates to "Sun. Wind. Soul." and reflects our appreciation for the elements around us, those that impact our lives and make the wine in our glass reflective of where it was made. This wine is a love letter to the heart and soul of French winemaking, and to the region whence it came.

This Bubbly Rosé calls to mind summers in the South of France, instantly transporting us with every glass as we imagine the warm sunshine and cool breeze off the coast, carrying the scent of the sea and of the surrounding wild herbs through the air. Situated along France's Mediterranean coast, Aix-en-Provence is known for its Mistral winds. These strong winds help keep the vineyards dry and free from pests, providing a healthy environment for grapes to grow.

The grapes for this Rosé were handpicked from vines planted over 20 years ago. After harvest, the grapes were destemmed, pressed and placed to ferment in stainless steel. The wine then aged in stainless steel until bottling, unfined and lightly filtered.

DID YOU KNOW?

This Rosé not only transports us to a place, but also back in time. Wine has been made in Aix-en-Provence for over 2,500 years, making it France's the earliest wine-producing region.