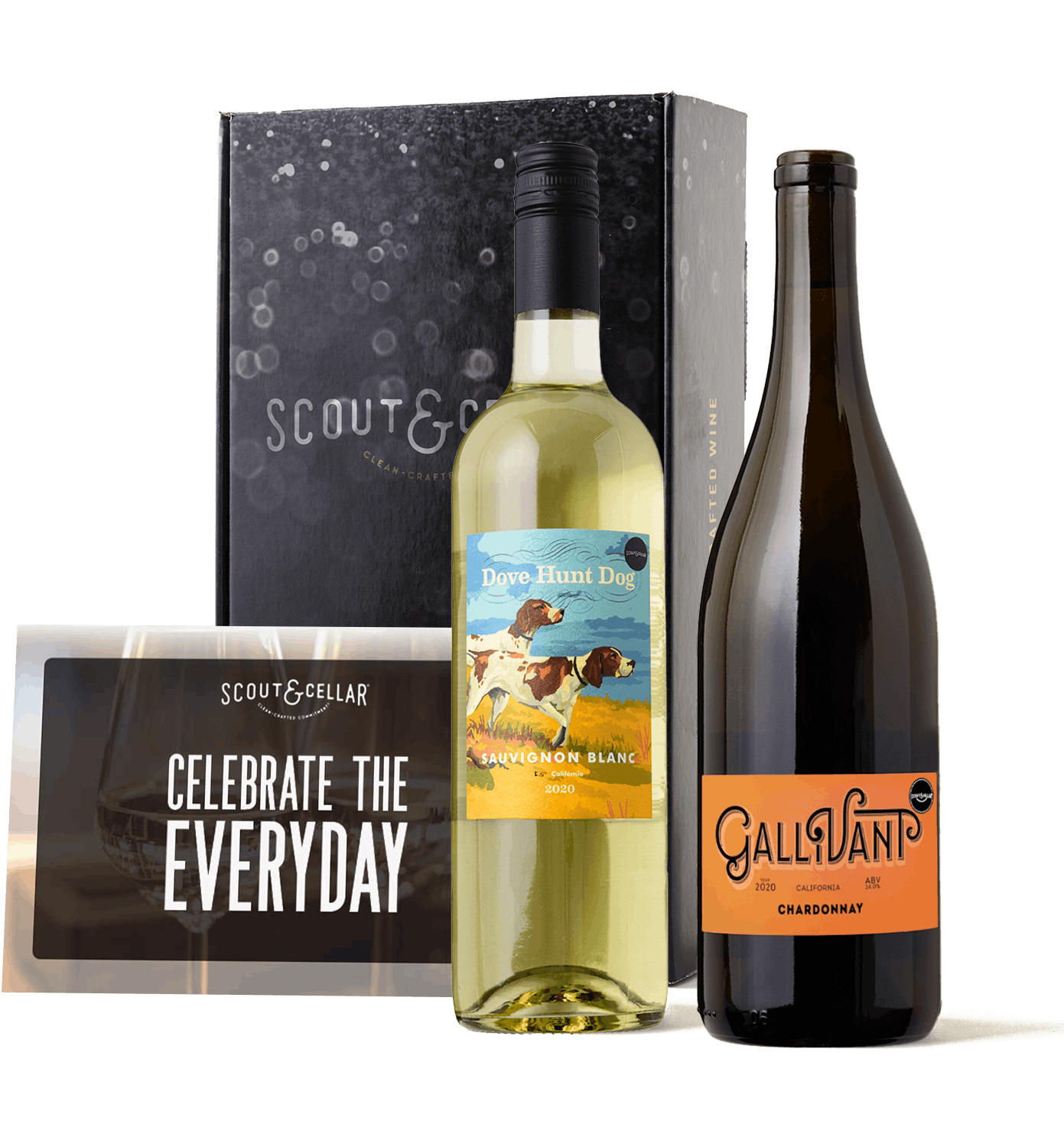 CELEBRATE THE EVERYDAY (White)
2 Bottle Gift Set
Notes of:


Pairs with:


Let's celebrate. The big wins. The little victories. The medium-ish moments of opportunity. Life can be full of surprises, and we believe they're worthy of celebration. In this box, you'll find 2 beloved bottles of Clean-Crafted™ wine, lovingly made with no synthetic pesticides, chemical preservatives or added sweetener. Perfect for celebrations, no matter the day. 
$59.00
Not available in the state you are shipping to.
CELEBRATE THE EVERYDAY (White)

2 Bottle Gift Set

This set includes:

1 bottle 2020 Dove Hunt Dog Sauvignon Blanc
1 bottle 2020 Gallivant Chardonnay
1 full-color tasting card
1 branded gift box

And did we mention that ground shipping* is included?

*Ground shipping included within the contiguous United States. Additional charges apply for expedited shipping options. This product is not eligible for Host Orders or Volume Discounts.

Not available in the state you are shipping to.

the journey

ABOUT THE WINES

2020 DOVE HUNT DOG SAUVIGNON BLANC

California | 100% Sauvignon Blanc | ALC 12.5% | RS 0.05 g/L | Vegan

Earthy. Crisp. Zesty and refreshing with Meyer lemon, lemongrass, and a distinctive minerality on a light-bodied frame with a clean, bright finish that demands another sip. Pairs well with seafood and soft cheeses.

2020 GALLIVANT CHARDONNAY

California | 100% Chardonnay | ALC 14% | RS 0.4 g/L | Vegan

Earthy. Creamy. Opulent and plush with pear tart, butterscotch, and baking spices on a medium-bodied frame with a bright finish. Pairs well with meatier seafood dishes, chicken in cream sauce, or polenta.