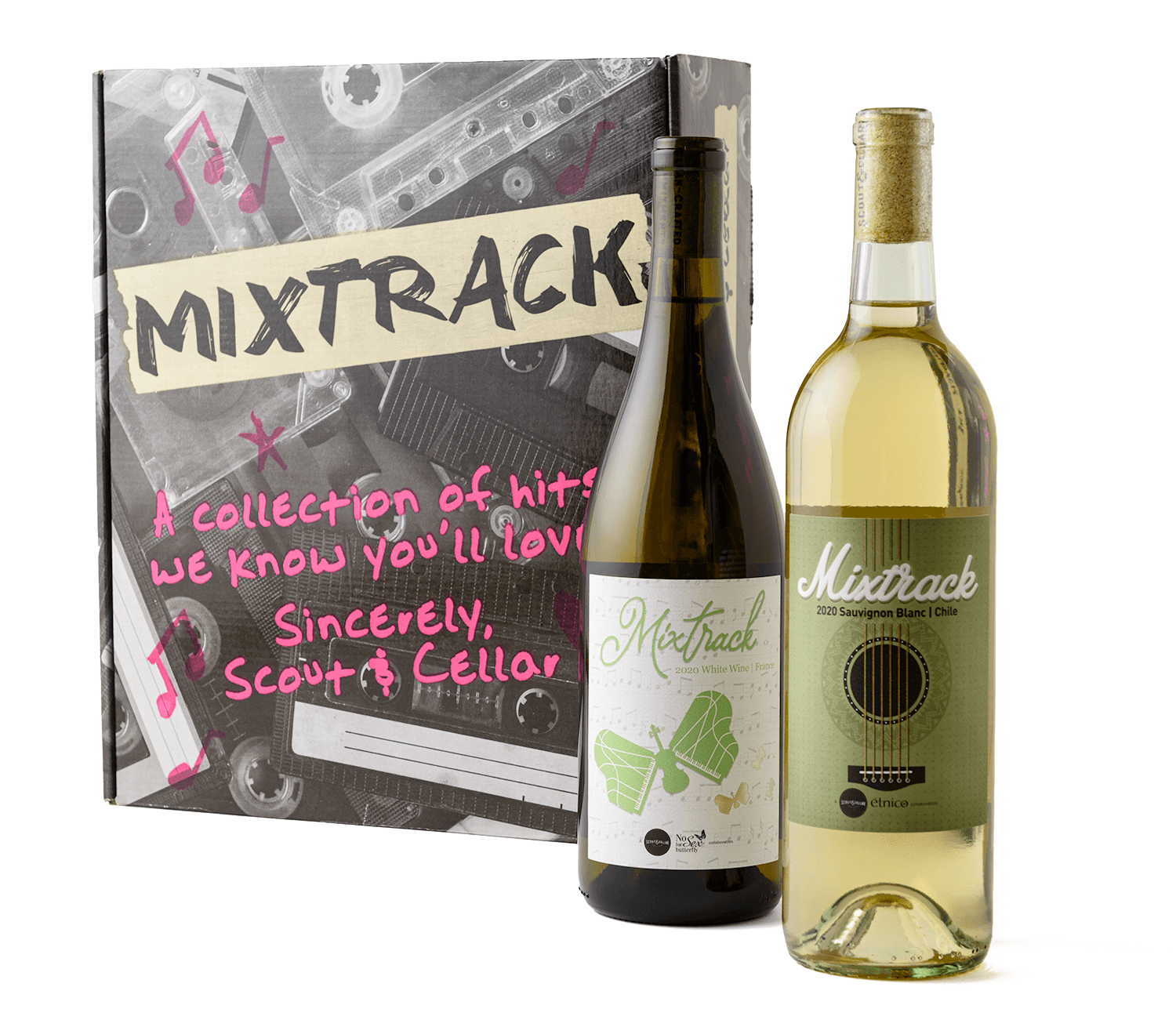 MIXTRACK SET VOL. 3
2-Bottle Set
Notes of:




Pairs with:

This limited-edition set comes in a special box and includes:
1 bottle 2020 Mixtrack Sauvignon Blanc (Etnico Collaboration)
1 bottle 2020 Mixtrack White Wine Blend (No Sex for Butterfly Collaboration)
Printed tasting card with tasting notes for each wine
QR code to access an exclusive Spotify playlist curated by Founder & CEO Sarah Shadonix in celebration of the Mixtrack launch!  
These Clean-Crafted™ wines are currently only available as part of this limited-edition set. And did we mention that ground shipping* is included?
*Ground shipping included within the contiguous United States. Additional charges apply for expedited shipping options. This item is not eligible for Host Rewards or Volume Discounts.
$59.00
Not available in the state you are shipping to.
MIXTRACK SET VOL. 3

2-Bottle Set

There's a reason why we love a good mixtrack. It's not just some random assortment of songs, after all. These are musical moments, thoughtfully curated, that soundtrack the story of our lives. First kisses. Last dances. Road trips. Life's biggest victories, and its sourest defeats. We create mixtracks for those we love as a way to tell those stories. And we listen to mixtracks for a deeper connection to the ones who make them for us.

The same true for the art of winegrowing. From the seed all the way to the cellar, wine tells a deep, personal story, brought to life by its maker. The years of hard work. The meticulous attention to detail. And it all culminates in a bottle made by the maker for the drinker, to spark a connection from the very first sip. This one goes out to all the goosebumps and bated breaths out there. We created this brand for the same reason we create and enjoy mixtracks: To connect with one another, moment by moment, and to revel in the kind of shared passion that sticks with us long after the tracks end.

Not available in the state you are shipping to.

the journey

MIXTRACK SET VOL. 3

ABOUT THESE EXCLUSIVE WINES

2020 Mixtrack Sauvignon Blanc | Chile

In collaboration with Etnico
ABV 12.8% | RS 0.69 g/L | 100% Sauvignon Blanc | Vegan

Together with our friends at Etnico winery, we set out to honor our shared dedication to the earth and a collective belief that wine is just-plain better when made naturally. Because when nature expresses itself through wine, it inspires passion—similar to the passion at the heart of Latin-American folk music. Earthy, crisp, light, bright and zesty, this Sauvignon Blanc features notes of lemongrass, fresh-squeezed lemon and tropical fruit. Best served with salads, seafood and singing in the rain.

2020 Mixtrack White Wine Blend | France

In collaboration with No Sex for Butterfly
ABV 13.03% | RS 0.3 g/L | 40% Chardonnay, 40% Sauvignon Blanc, 20% Viognier | Vegan

Our winegrowing friends at No Sex for Butterfly have a storied heritage—one that spans ten generations of family ownership and operation. They first purchased their estate in 1740, back when classical music was the genre of choice. Today, both the classical genre and the family-owned-and-operated wine estate are considered masterpieces—beautiful, elegant depictions of the French craftsmanship that we at Scout & Cellar work to reflect in everything we do. Fruity and crisp with notes of pear, mango and white tea, this White Wine blend pairs perfectly with pork, poultry and Indian curries!