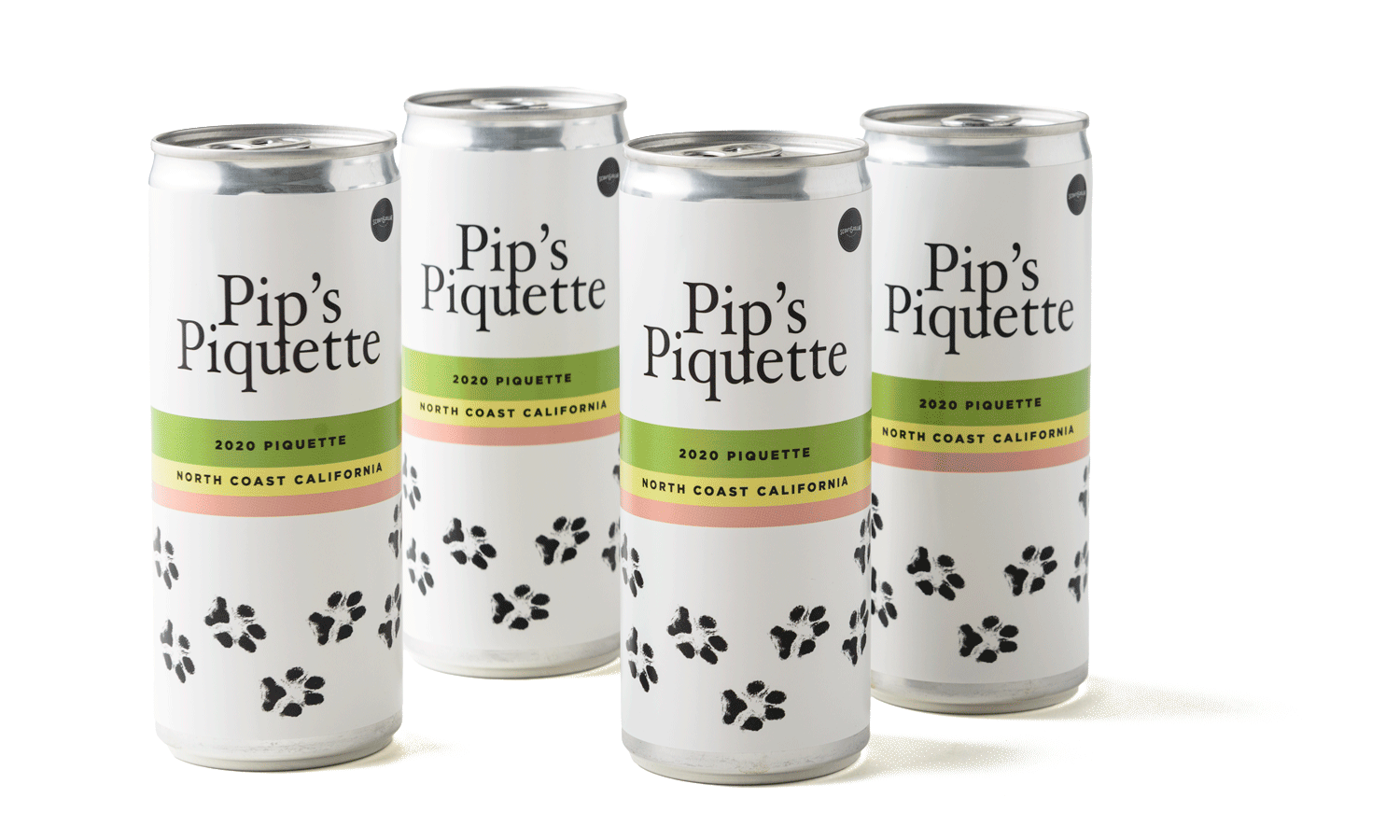 PIP'S WHITE PIQUETTE
North Coast, California
Notes of:


Pairs with:


Earthy, Crisp
100% Piquette of Viognier
Vegan
Contains four (4) 250mL cans. Keep cold. Drink cold.
$18.00
Not available in the state you are shipping to.
PIP'S WHITE PIQUETTE

North Coast, California

Crisp and refreshing with notes of sweet tea, apple, and pear and a clean finish that demands a second sip.

This fun, fizzy beverage is totally sessionable and perfect for when you're looking for something a little lighter, or when a glass bottle just won't do. Think picnics, tailgates, and hanging out after your Sunday kickball game.

Alcohol: 2.5%

Residual Sugar: 0.1 g/L

Not available in the state you are shipping to.

the journey

PIP'S WHITE PIQUETTE

We never met a dog we didn't love. Their excitement and uniquely expressive personalities bring so much joy to our lives. In honor of our tail-wagging, one-of-a-kind winery dog Pip, we're proud to share this unique, special edition of Pip, the Greeter: Pip's Piquette.

We think Piquettes are pretty cool…It's like upcycling, but for wine! When you make wine, you end up with some things left over. This includes grape skins, seeds, and stems. Together, they're called pomace. To make Piquette, this pomace combines with water and then ferments. This one is made from Viognier (VEE-OWN-YAY). The result? A dry, lightly fizzy, slightly cloudy canned beverage that—at just 2.5% ABV—is extremely versatile. Crisp. Fresh. Totally delicious.

DID YOU KNOW?

In Italy, Piquette is sometimes enjoyed by vineyard workers on their lunch break as a refreshing beverage before going back to work. They call it "Acqua Pazza", which translates to "Crazy Water"!